Frankfurt has a long history since the early years of the Holy Roman Empire, and the nation's banking district was utterly destroyed during World War II. In contrast to other German towns, Frankfurt abandoned its beautiful historic architecture and reinvented itself as "Mainhattan" (named for the Main River winding through the city and the skyscrapers reminiscent of Manhattan). Its modern German hub, vibrant event and eating scene, and extensive international airport is a popular business destination worldwide. Frankfurt is a world-class metropolis with a fantastic skyline of skyscrapers and a thriving neighborhood of university students, foreigners, convention-goers, and cultured residents. Frankfurt is the largest city in the state of Hesse and the fifth-largest in Germany. If you want to discover this beautiful city in an easy way, Airport Taxis is at your service.
Where to stay in Frankfurt
Frankfurt is divided into 46 neighborhoods, each having advantages and disadvantages. While certain parts of the city embrace its forward-thinking attitude, others pay homage to its ancient past. The heart of the city, Innenstadt, is home to both contemporary and historically accurate hotels. Unsurprisingly, the City Centre is the ideal spot to stay in Frankfurt, especially if you're a first-time tourist or on business. The Old Town (Altstadt), the Central Business District, and the Central Station Quarter make up Frankfurt's city core. Some of the top hotels in town are also found in central Frankfurt. To get to your hotel quickly and smoothly, you can book a ride with Airport Taxis.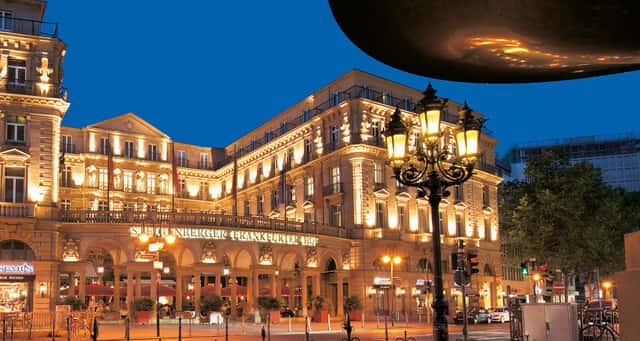 Steigenberger Frankfurter Hof
Since 1876, they have been serving visitors at the historic Steigenberger Frankfurter Hof in the core of the banking sector and the city's historical quarter. Only a few steps separate you from the Maintower, Römer, and Paulskirche, and it takes roughly 13 minutes to walk to the Central station.
Hotel Hübler
The "Hotel Hübler" offers the ideal lodging for your stay, whether traveling for work or pleasure. The hotel's rooms are airy, cozy, and furnished with convenient conveniences. In addition, each morning, guests are given a full breakfast.
NH Collection Frankfurt City
Being centrally located in the city gives you access to nearby attractions and sights. Don't leave without visiting the renowned Romer. This superior hotel, which has a 4-star rating, offers on-site massage, dining, and fitness facilities to its visitors.
Culture and Customs in Frankfurt
When dining out in Germany, be aware that you must choose your own seat and request the check after the meal. Say "Die Rechnung, bitte," round up and leave a tip of no more than 10%.
The Bahnhofsviertel in Frankfurt was a risky location to hang out in, but it is now blatantly hip. Drug usage and prostitution are still present, but the latter is permitted. Since 2018, Frankfurt has had a two-euro per person per night tourism fee.
Frankfurt Food
The dining options in Frankfurt range from Japanese to Southern California, which is a welcome international touch. However, they also serve as a diversion from Frankfurt's regional food. There are numerous century-old eateries in the city and an infinite supply of sausage. Order traditional dishes like the aromatic, lyrically named handkäse mit musik (cheese with music), or boiled potatoes and hard-boiled eggs with Frankfurter grüne sosse (Frankfurt green sauce).
Frankfurt offers chic and contemporary bars in areas like the Bahnhofsviertel, a once unsavory neighborhood surrounding the main railway station. But you must stop at an apfelweinlokal if you want to reach the city's core (traditional apple wine bar). This tangy, slightly sour fruit wine, referred to as ebbelwoi in the local tongue, is a must-try while visiting Frankfurt. Want to make sure you get home safely after all that wine? Then book a ride with Airport Taxis.
Best restaurants in Frankfurt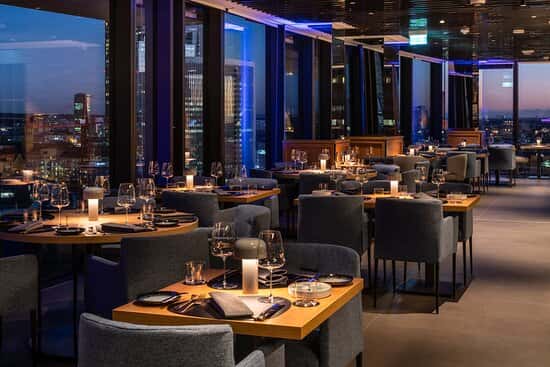 Because of its significant international airport, Frankfurt is frequently the first city tourists visit in Germany. Travelers may proceed to other locations across the nation from here, but they shouldn't do so without first enjoying a satisfying dinner of Frankfurt food.
The city's contemporary, global vibe contributes to one of Germany's most vibrant gastronomy scenes. Traditional German cuisine is available, including regional specialties like Frankfurter grüne sosse and ebbelwoi, vegetarian options and prestigious fine dining. Do you want to arrive in style at a restaurant in Frankfurt? Then Airport Taxis is the ideal option.
Reminder: Restaurants in Frankfurt frequently close on Mondays, and reservations are advised—even throughout the week—because large conventions frequently monopolize the best tables. Here are a few of the best restaurants in Frankfurt.
Gerbermühle
This 16th-century grain mill has been renovated into a stylish modern lodge on the Main River banks. It offers panoramic views of Frankfurt's skyscrapers. However, it is not necessary to be a hotel guest to have typical Frankfurt food here. The restaurant's menu features traditional German fare, and patrons can enjoy the enclosed wintergarten in the winter or the spacious biergarten during the summer.
Lucille Kaffeehaus
This cozy café in the Nordend-Ost neighborhood is the place to go for brunch (with an adjoining vinyl record shop to peruse afterward). You'll find a variety of modern and fresh Frankfurt food sandwiches, such as goat cheese and grilled vegetables, as well as drinks that are produced in-house (try the elderberry mint lemonade). While Lucille Kaffeehaus typically closes their doors around 6 p.m. most of the days, on Thursday and Friday nights, it changes into an after-hours bar and stays open until 1:30 a.m.
Dauth-Schneider
Are you a die-hard fan of the Frankfurt ebbelwoi scene? Dauth-Schneider, which debuted in 1849, has a substantial following. Classic Frankfurt food rules in this area. Order sulz fleisch (cold meat and jelly terrine) or gekochte haspel to fit in with the neighborhood (pickled pork knuckle). Or, stick to a dish like a platter of Frankfurt sausages if you want. If you visit during the hot summer, join the rest of the people and grab a seat on the patio under the trees.
Druckwasserwerk
The spectacular interior of this Westhafen location features exposed brick, a magnificent chandelier, and mezzanine seating. Elegant European fare, including truffle dumplings, Wiener schnitzel, steak and salads are served at Druckwasserwerk. You can choose from various brunch options if you visit on a Sunday. In the summer, patrons can enjoy the Frankfurt food outside terrace and private sand beach.
Best vegan restaurant Frankfurt
Whether you are a vegetarian, vegan, or simply interested in trying new plant-based restaurants, it is always nice to have personal suggestions. Even interested carnivores should acknowledge that the delicious vegan menu items these establishments offer satisfy even the pickiest palette. You can also visit the best vegan restaurant in Frankfurt without hassle by booking a cab at Airport Taxis.
Vevay
This contemporary vegetarian café offers creative protein bowls, meatless burgers, salads and refreshing smoothies that all adhere to the farm-to-table philosophy. Freshly baked items are among the available vegan options. All of the Frankfurt food served here is locally sourced and organically certified. Vevay is one of the few locations open on Mondays, but it accepts only cash and is closed on Sundays. There are both in-house and takeout options for meals.
Kuli Alma Israeli Kitchen
Kuli Alma Kitchen honors Israel's delectable Mediterranean food. The Frankfurt food at Kuli Alma is a feast for the eyes and the stomach (expect generous amounts). There are a few vegetarian dishes, but the imitation meat dishes are where they really stand out. Their substitute meats are delicious if you're traveling with meat-eating pals. Try the beyond burger, shawarma, or kebabs. This place gets crowded for their popular Sunday Brunch, so make reservations for a table just in case.
Paletti Ginbar (Die Genuss Bar)
Since 2018, Paletti has welcomed tourists and residents for lunch, supper, and their quaint Sunday brunch while serving a completely vegan menu. Paletti has veganized some of the incredible Frankfurt foods, such as Flamkuchen, rather than sticking to simple vegan food like noodles and burgers. Additionally, there are other exquisitely cooked foods available. Try sweet potato fries and the pizzas, and don't forget about one of their stunning cocktails. This really is the place to be whether you're searching for some traditional Frankfurt food, a tantalizing vegan burger, or even to make your own muesli!
Things to see in Frankfurt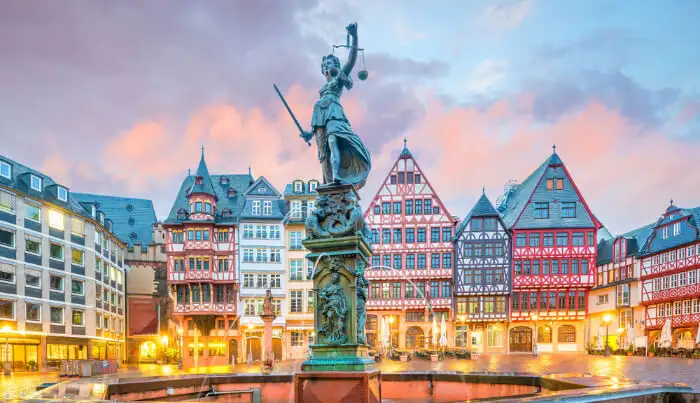 Frankfurt is more than just an airport and a financial hub. Even if you visit the city's most well-known attractions, you'll find that Frankfurt is packed with fascinating insights and surprising moments just waiting to be discovered. You can easily do this by booking a ride with Airport Taxis.
The Frankfurt Old Town
The smallest neighborhood in Frankfurt, with its picturesque setting on the Main River, is now fully restored. After years of building between the Römer and the cathedral, the old town reconstruction project was completed in 2017. Both locals and tourists like visiting Frankfurt's old town. Here, guests will have the opportunity to have a cup of coffee, a trip to the museum, or a shopping excursion while taking in the atmosphere of a venerable old town tucked away in the center of a bustling global city. Some interesting things to do in Frankfurt.
Eiserner Steg (footbridge)
Among the most well-liked photo locations with a great perspective of Frankfurt's skyline. Over 10,000 people walk across this well-known iron and concrete footbridge daily as it links Sachsenhausen with the city center and Römerberg on the southern banks of the Main River.
Alt-Sachsenhausen
Old Sachsenhausen draws tourists with its old timber-frame homes, quaint lanes, and apple wine bars. A few glasses of Frankfurt apple wine are best enjoyed in Frankfurt's nightlife area. Be sure to book with Airport Taxis to get to your hotel safe and sound.
Bethmannpark
Bethmann Park has a floral display of exceptional splendor and could easily serve as the lush grounds of a spa resort. The park's main draw is the Chinese Garden, designed using feng-shui principles. Popular photo themes include the dragon-guarded portal, bridges, and the pond.
Best Frankfurt attractions
In Frankfurt, you should definitely explore this historical, cultural, and architecturally gorgeous city. A tour of Frankfurt displays an amazing blend of the old and new, set against a dramatic backdrop of skyscrapers. There're a lot of things to do in Frankfurt. Don't want to get lost in this big city? Airport Taxis is the answer.
Zoo Frankfurt
The Frankfurt Zoo, located in the city's center, is home to more than 500 different animal species. The Frankfurt Zoo, open every day of the year, is a wonderful location to unwind, take in the beautiful surroundings, and learn about environmental preservation and various animal species.
Die Käs - Cabaret in the City
The sole political-literary cabaret stage in Frankfurt's Main city is the cabaret änderungsschneiderei, or simply die Käs. Fans of podcasts, music, magic, stand-up, and comedy are also not left out. There is no doubt that diversity is the plan here!
Rebstockbad
Want to go for the best Frankfurt attractions? Everything a person requires for a short holiday or extended weekend is available at the largest aqua-fun pool in the city: A beach, relaxation under palm trees, a swimming pool with simulated waves, and beach volleyball. Swimming pool, non-swimmer pool, the paddling area outside and in the Hall, wave pool, diving area with jumps up to 5 meters, huge slide (120 meters), black hole slide (125 meters), hot-tub garden, outdoor playground for kids, and a variety of sauna landscapes.
Best Frankfurt museums
Ancient statues, well-known works of art, contemporary works of art, and historical artifacts from bygone eras may all be found in the city on the River Main. Frankfurt has established itself as one of Germany's premier museum destinations. Its spectacular museum embankment, a distinctively European cultural landscape, is largely responsible for its fame. Check out a couple of the best Frankfurt museums with one of our Airport Taxis drivers.
Staedel Museum
With a concentration on the Renaissance, the Baroque, early Modern art, and much more, the collection provides a comprehensive survey of seven hundred years of European art from the early fourteenth century to the present. 3,100 paintings, 660 sculptures, over 4,600 photographs, and more than 100,000 sketches and prints are all included in the collection.
Archäologisches Museum Frankfurt
The Archaeological Museum focuses on exploring, documenting, and displaying archaeological discoveries made in Frankfurt and its surroundings during prehistoric, Roman, medieval, and modern eras. This certainly is one of the best Frankfurt museums. On the lands between Münzstrasse, Alter Mainzer Strasse, Seckbächerstrasse and Karmelitergasse, the Carmelite Monastery was constructed in 1246.
Dialog Museum
Both a social enterprise and a museum, Dialog Museum. "Dialogue in the Dark - An Exhibition to Discover the Invisible" is a great deal of entertainment. A lightless course with varying subject chambers is navigated by blind or visually impaired specialists with small groups of guests. Inclusion becomes a tangible sensation due to the unmatched role reversal that results.
Shopping in Frankfurt
The Zeil, Frankfurt's most popular pedestrian walkway, is one of Germany's most successful shopping areas. Below spreading sycamore trees, department stores, retail chains, and specialist shops entice shoppers to a leisurely shopping spree. Those with more discerning tastes can discover what they need nearby. Not in the mood to brave public transport with your heavy bags after all your purchases? Then booking an Airport Taxi driver is a great solution.
Kaiserstraße
The portion of Kaiser Street that goes to the city center still depicts the grandeur and majesty of long-gone eras, in contrast to the portion of the street that leads to the main station, which is now renowned for its erotica shops and nightlife. There are still upscale jewelry stores and boutiques in this area of Kaiser Street.
MyZeil (Shopping Centre)
The "MyZeil" shopping center, with more than 52,000 square meters of retail space, is ideally situated in the city's center. The mall's massive curved glass façade dazzles onlookers with its architectural design. Numerous well-known stores, local merchants, and international labels can be found on MyZeil.
Skyline Plaza Frankfurt
The "Skyline Garden," a distinctive green paradise with a restaurant, children's playground, numerous recreational amenities, an observation platform, and a small vineyard, is the ultimate centerpiece. It is located on the mall's rooftop.
Transport options from Frankfurt Airports
In Frankfurt, Germany, there is only one airport: Frankfurt Airport (ICAO/EDDF). To get to the hotels and city of Frankfurt, you may use a bus or train. However, Airport Taxis Transfer offers you customized transportation to your destinations.
To arrive at Frankfurt hotels in style, make a cab transfer reservation with Airport Taxis. They will be holding a nameplate for you, so it will be easy for you to identify them. The driver will offer help if you require assistance with your bags or directions. We welcome any inquiries you may have about your trip to Frankfurt, and our friendly local drivers will be happy to answer them. Airport Taxis maintains a sizable fleet of opulent taxis and comfortable cars for transportation to and from the airport or other destinations in Frankfurt. You can choose the ideal car based on where you're heading. After deciding on the taxi that best suits your requirements, take a seat, sit back, relax, and enjoy the ride! Whether you're taking a family vacation or a business trip, Airport Taxis transfer service is here for you.