Madrid tourist places
Spain's capital, Madrid, is also its most popular tourist destination. Madrid is among the most visited cities in Europe, receiving more than 10 million tourists in 2018. Madrid continues to attract more foreign visitors because of its diverse culture, countless landmarks, exciting nightlife, and enjoyable activities. Madrid embodies the full spirit of Spain in its opulent architecture, vibrant plaza life, and mouthwatering cuisine. Madrid is also much more than just tapas, flamenco, and bullfighting, but you can find all three inside the Spanish capital. Madrid is where you will find the Golden Triangle of Art, the oldest restaurant in the world, and the flamenco club of your Spanish dreams, despite the fact that Barcelona frequently steals the show. Madrid is indeed a city with a colorful nightlife, stunning architecture, and world-class shopping. The European metropolis is home to superb art, top-notch wine, and the kind of spontaneous street acts that last a lifetime. Do you want to experience all this beauty? Then Airport Taxis is there for you to take you to any destination. So book a taxi and be on your way.
Table of contents The Principal Madrid Hotel Axel Hotel Madrid SLEEP'N Atocha Madrid Food Best restaurants in Madrid Top attractions in Madrid Parque de Atracciones Parque Warner Safari Aquopolis Flamenco Shows Best places to visit in Madrid Puerta del Sol Plaza Mayor Gran Vía Plaza del Callao Royal Palace Madrid Nightlife Huertas Malasaña Chueca Shopping in Madrid Gran Vía Calle Fuencarral Calle Preciados Calle Serrano El Rastro Transportation options from Madrid Airport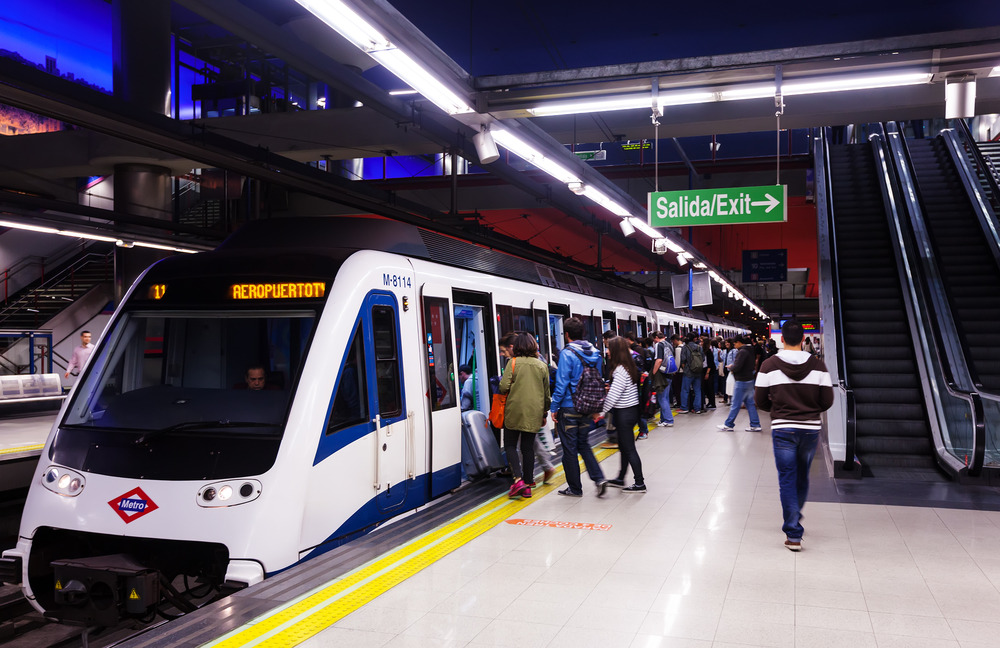 Where to stay in Madrid
The cultural and financial center of Spain, Madrid, places a high priority on both leisure and corporate travel. Because of this, the nation's capital city offers a variety of lodging options for all price ranges. The city center is the ideal area to stay in. If you find lodging near Madrid's center, practically all of the city's top sights and museums are in close proximity. We really enjoy the neighborhood where The Garden Suites, our opulent apartments, are located, which is situated between Sol and Gran Via. The hotel and tourism network in Madrid is among the greatest in the world. Approximately 50% of the city's more than 50,000 hotel rooms are four- or five-star accommodations. To get to and from your hotel, you can easily use the Airport Taxis services. Our drivers have extensive knowledge of the city of Madrid and will take you anywhere.
The Principal Madrid Hotel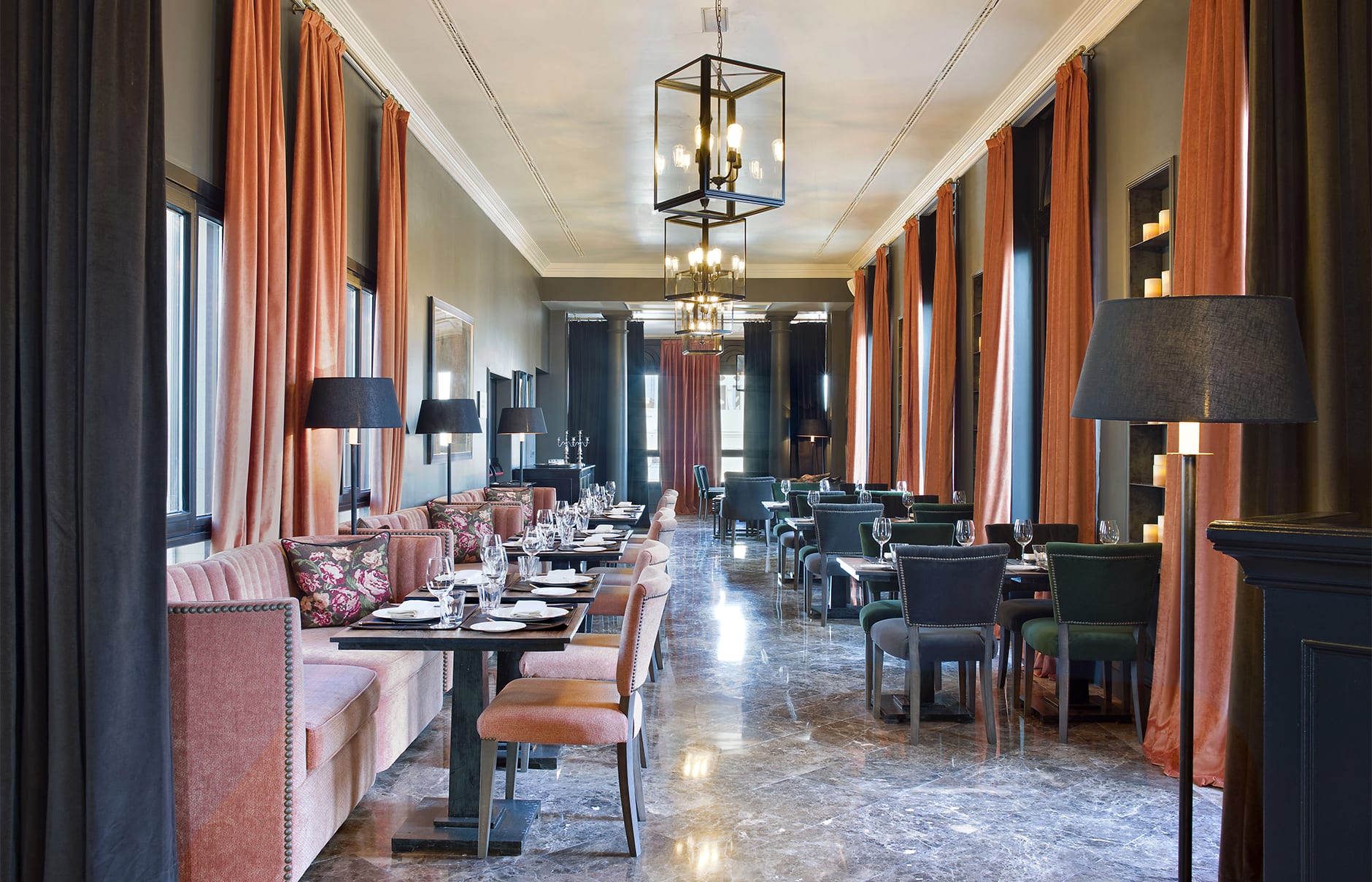 Despite having only 76 rooms, this small boutique hotel has some of the city's best views from its rooftop patio. A two-Michelin-starred chef resides in the five-star hotel along the Gran Via, close to some of Madrid's best shopping.
Axel Hotel Madrid
The Axel Hotel is situated in Madrid's renowned Barrio de las Letras, a hipster neighborhood famed for its food, entertainment, and shopping. This little hotel, which offers 88 rooms, is a favorite among LGBT visitors. The rooftop pool has sweeping city views, and the apartments are colorful and lively.
SLEEP'N Atocha
This conveniently placed hotel is excellent for the environment as well as your budget. This hotel is an affordable jewel that is close to some of the best artwork in Europe thanks to its unique style and ideal location. The hotel provides a coworking area designed for digital nomads and aspires to be carbon neutral.
Madrid Food
Madrid's cuisine is extremely diverse and can be characterized as a fusion of regional Spanish cuisine. The meals are typically ordered to share because they are good and filling. There are a number of regional specialties from Madrid, some of which use slightly different components elsewhere. A few of the most popular dishes include: Grilled pig ears: with garlic and parsley are known as orejas a la plancha. It frequently comes with chips. Gallinejas: deep-fried lamb intestines and internal organs Caracoles a la Madrilea: "Madrilean snails", which have been patiently cooked in a sometimes spicy beef broth. Cocido madrileo: a typical meat-and-chickpea stew. Callos a la Madrilena: This dish, which is typically served in the winter, is prepared with pig stomach, ham chorizo, paprika and tomato. Pavia's Soldaditos: little pieces of fried cod garnished with red peppers. Huevos estrellados: fried egg with chips, chorizo, ham or chistorra (fast-cure sausage). Senate Pastries: also referred to as Pastas del Consejo, were created for King Alfonso XII for the first time in the nineteenth century. Rosquillas tontas y listas: only prepared in May, are a form of ring-shaped pastry. There is a layer of icing sugar on the "listas." Rosquillas de Santa Clara: These rosquillas are layered with a sugar icing on top and an anise flavor. Bartolillo: cream-filled fried desserts. Barquillo: A kind of sugar-topped wafer.
Best restaurants in Madrid
Madrid has several restaurants that are open all day, so you shouldn't be concerned about keeping to a strict schedule while you're on vacation. Madrid has a rich tradition of eating tapas out, and the city is dotted with tapas bars and taverns. The majority of the city's traditional dishes are offered in "raciones," which are big amounts meant to be shared with friends or family. Bars and restaurants are one thing that Madrid has in plenty. There is a wide range of cuisine available across the city to suit every taste. Do you want to arrive in style at Madrid's best restaurants? Then book a driver at Airport Taxis. The driver always has good tips on where to go and will take you there. Booking a taxi to restaurant is a great idea. Here are some area options for you: The most traditional area in Madrid is called La Latina. The most traditional Madrid foods may be found at reasonable prices on Cava Baja, the most well-known street for dining. Chueca: The restaurants throughout this neighborhood distinguish themselves by their variety. Food from all around the world may be found here, making it the ideal destination to satisfy a curious palate! Malasaa: The Malasaa area is the most opulent and inventive in all of Madrid. Its pubs and restaurants have unique and exciting themes and decorations. Chamber: If you're looking for restaurants and pubs with outside seating, Chamber is the place for you. The tapas in Calle Ponzano, in particular, are well known. Lavapiés: This area is known for its diverse cuisine, including Asian, African, Indian, Mexican, Madrid food and more! The servers' presence by the entrance, looking for clients, is typical.
Top attractions in Madrid
Numerous attractions, lovely neighborhoods, and exciting parks, such as the palace, Retiro, Prado, and others, are available in Madrid. Find out where to go so that you don't miss any of Madrid's major attractions. To get there, you just need to book a taxi with Airport Taxis. Our drivers know how to find every top attraction in Madrid effortlessly and take you there without unnecessary detours.
Parque de Atracciones
This is one of Madrid's most well-known attractions and the city's first amusement park, Parque de Atracciones. In Madrid's Casa de Campo, there is a sizable amusement park called Parque de Atracciones. It was the first structure completed in Madrid and is among the biggest in all of Spain. Over two million guests visit this theme park each year, and it has always offered the most up-to-date rides with various themes. The park undergoes renovations every few years, enhancing its rides and overall aesthetic.
Parque Warner
One of Spain's best-known theme parks is Warner Park, or Parque Warner Madrid. It was established in order to compete with Terra Mitica and Port Aventura. In June 2002, it was formally opened to the public. Due to its poor management, Warner Park received a lot of bad press when it was originally opened. It is currently one of Spain's most well-liked parks and has won numerous accolades, including the title of safest park in the nation.
Safari
Safari Madrid is a theme park where visitors may drive in cars and view exotic creatures in wide-open settings. You'll experience a sense of having visited Africa. The theme park allows visitors to view wild creatures in wide-open settings. Visitors can view tigers, lions, giraffes, bears, monkeys, and many other stunning and exotic species at this park, which is only 50 kilometers (31 miles) from Madrid. You'll get the impression that you're in one of Asia's lush woods or one of Africa's well-known safaris when driving your vehicle through the attraction.
Aquopolis
Aquopolis has rapids, a pool, and a toboggan run, so you can expect thrills, adrenaline, and a cool down from the sweltering Madrid heat! One of Spain's largest parks may be found in Villanueva de la Caada, which is located 40 kilometers from Madrid. Unquestionably, despite being somewhat remote, it is one of the better ways to beat the heat in Madrid and stay dry. There are rides, pools, a VIP section, toboggans, and even a beach featuring hammocks in the park.
Flamenco Shows
Although Flamenco originated in Andalusia, Madrid is home to some of Spain's top "tablaos," or locations where the dance is performed. Flamenco is a great art that combines Andalusian music and dance techniques with a unique flare from the Romani community in Spain. It originated in the seventeenth century and consists of cante, baile, palmas, and zapateo (foot stamping) (singing).
Best places to visit in Madrid
Every street in Madrid is an excellent site to start your trip, and you can find some of the city's historical and cultural gems there. Don't know where to start? An Airport Taxis driver will take you to the best places to visit in Madrid in no time. To book a taxi, just visit our website.
Puerta del Sol
One of Madrid's most well-known central squares, Puerta del Sol (which translates as The Sun's Gate in English), serves as a gathering place for locals and tourists alike and is the location of several notable landmarks, including the Kilometer Zero. The plaza was constructed in stages. La Puerta del Sol had originally been one of the city wall's gates during the fourteenth century, and the Casa de Correos, which is now the Presidencia de la Comunidad's administrative center. It was built three centuries later, in the middle of the eighteenth century.
Plaza Mayor
The Plaza Mayor, or Main Square in English, is situated in the center of Madrid, close to the Royal Palace and Puerta del Sol. The square is flanked by three-story houses with porches and measures 129 meters long by 94 meters wide. In the past, it served as a gathering spot for public announcements and events. It is dotted with historical sites, memorial markers, and other symbols.
Madrid, The Gran Vía
The Gran Via, Madrid's most prominent boulevard that connects Salamanca and Argüelles and is home to some of the city's most recognizable structures, was constructed between 1910 and 1929. Currently, Gran Va is home to a large number of eateries, pubs, retail boutiques, movie theaters, and cinemas. Gran Va has maintained its status as the Spanish Broadway in recent years, despite the closure of several theaters and cinemas.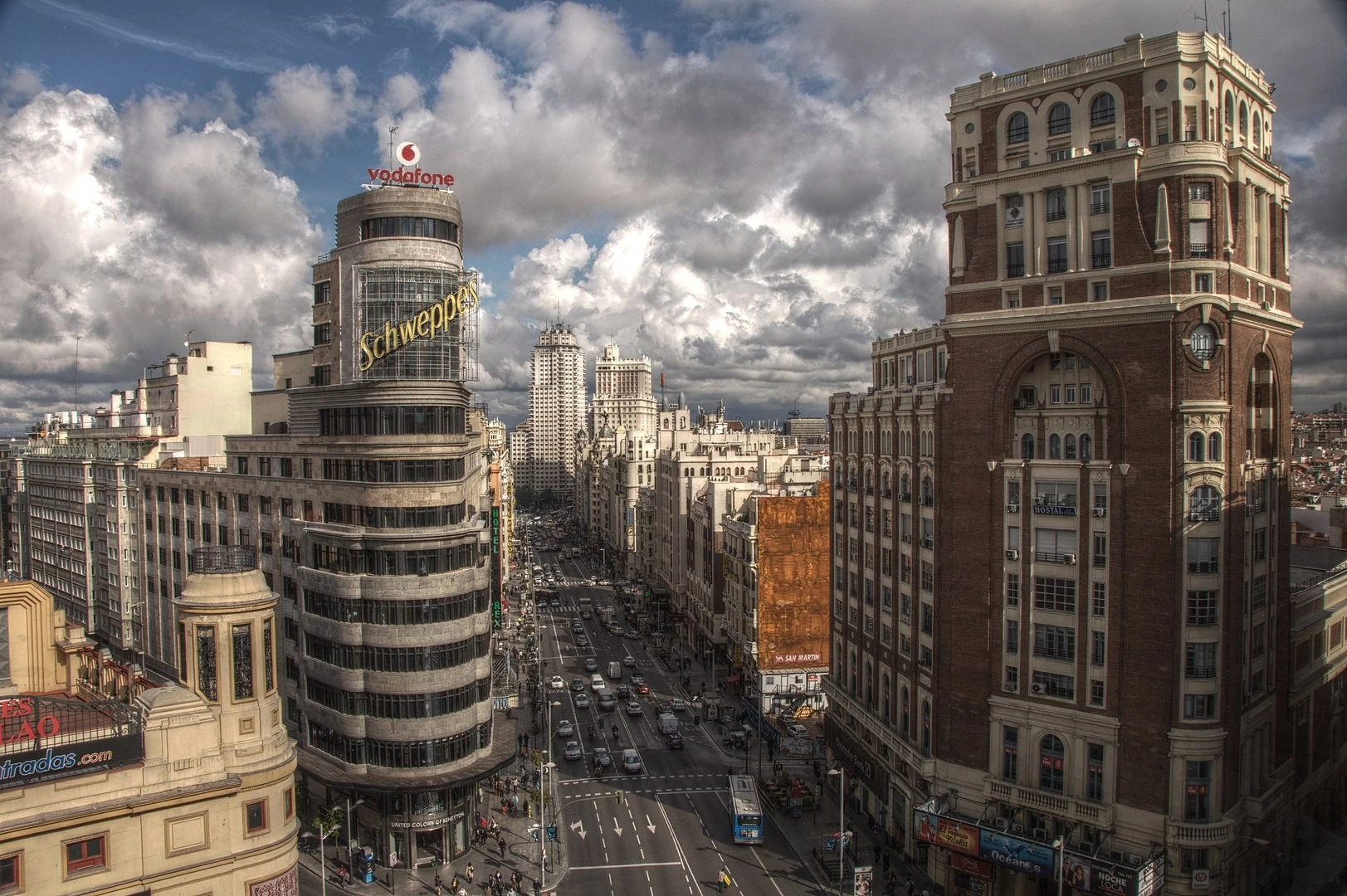 Plaza del Callao
Madrid's soul, its atmosphere, and its history is one of the best spots in Madrid to explore, shop, or start an amazing day in the city is Plaza del Callao. A truly iconic location. If you go to Madrid but skip Callao, it's like you never even went to Madrid! One of the oldest attractions in the city, it's always bustling with activity. It's easy to include in your agenda for Madrid because of its placement near Puerta del Sol and at the conclusion of the Gran Via.
Royal Palace
The official residence of the Spanish Royal Family is the Royal Palace of Madrid, also referred to as the "Palacio de Oriente" due to its close proximity to Plaza de Oriente. Since the King of Spain currently resides in the Palacio de la Zarzuela, the palace is now only used for important events like banquets and state ceremonies. The Sabatini Gardens and Campo del Moro Park are located all around the Palace. From October to July, the Royal Palace of Madrid's guards are changed every Wednesday at 11 a.m. The ceremony may be postponed due to inclement weather or an official decision.
Madrid Nightlife
Madrid, being one of the liveliest cities in Europe, has a fantastic nightlife. There are numerous neighborhoods in the capital with a variety of bars and clubs to satisfy every taste. Depending on your interests and also what you feel like doing, the city provides a range of "nights out". Do you want to be sure that you will arrive at your accommodation in one piece after a night out? Then book a taxi with Airport Taxis.
Huertas
One of the busiest and best-known neighborhoods in the city. Tourists and international students alike love Huertas. The best selection of pubs and clubs can be found on Calle Huertas and its neighboring streets. Puerta del Sol is fairly near the region.
Malasaña
Malasaña is the city center. It served as the center of Spain's "La Movida" socio cultural movement in the 1980s. These days, there are several hipster eateries and bars in this area. Most of its clubs feature independent music and are fairly modest.
Chueca
Chueca might be compared to Madrid's "Soho." Great restaurants, pubs, and nightclubs are abundant in this little neighborhood. It is also regarded as the best gay nightlife district. Plaza de Chueca, which is flanked by various terraces, is the busiest square.
Shopping in Madrid
Madrid has a wide range of shops for both residents and tourists to choose from, offering everything from the most basic items to the most unusual and specific items. The city is teeming with big malls, renowned stores, and tiny designer boutiques. In Madrid, shopping is never out of reach. There are a ton of tourist shops in the city center that sell everything from paella plates to sculptures and delectable Pata Negra ham. There is nothing you cannot buy in Madrid! Any item you're looking for may be found in the city's various retail sections, each of which has its own unique flair. After a long day of shopping, don't you feel like braving the busy public transport with all your purchases? Then go for convenience and comfort by booking a taxi with Airport Taxis. Some of Madrid's top retail districts include:
Gran Vía
Gran Va In addition to being Madrid's main boulevard, Gran Va is crammed with well-known apparel retailers, including Zara, Mango, Loewe, Primark, H&M, and other chic high-street boutiques. Shopping here is enjoyable because you'll be surrounded by beautiful old buildings.
Calle Fuencarral
Many people view Calle Fuencarral as Madrid's modern fashion center. There are stylish, contemporary shops there, including Sfera, Jack Jones, Adidas, Adolfo Dominguez and New Balance. Calle Hortaleza runs parallel to Fuencarral. Despite having fewer shops, this street has several excellent ones.
Calle Preciados
Starting near Puerta del Sol, this pedestrian route is constantly bustling with people going by. It is one of the most significant business sections of the city, together with Calle del Carmen and Calle Arenal. Stores like El Corte Ingles, Fnac, Zara, Springfield and Pimkie are among them.
Calle Serrano
The Calle Serrano is surrounded on all sides by magnificent classical structures and is situated in Salamanca's affluent neighborhood. Madrid's most opulent fashion retailers may be found there, including Gucci, Chanel, Carolina Herrera, Miu Miu and Manolo Blahnik. This boulevard is also known as Madrid's "Golden Mile," and it is a haven for people who enjoy shopping at upscale jewelry stores.
El Rastro
The Rastro flea market dates back more than 400 years. La Latina district comes alive on Sundays with a plethora of kiosks selling bags, accessories, clothing, souvenirs, and other interesting items. It has grown to be one of Madrid's top tourist destinations.
Transportation options from Madrid Airport
You arrive at Madrid-Barajas Airport (MAD/LEMD). From here, you can take the train or possibly a bus to get to Madrid's central business district and hotels. This is in contrast to Airport Taxi Transfer, which offers personalized transportation to your destinations. It is suggested that travelers take a taxi from Madrid airports to the city center or their lodging because of this. By arranging a trip with Airport Taxis, you may arrive at Madrid hotels with ease. The driver will help you handle your luggage and, if necessary, direct you in the right direction. Your questions regarding your trip to Madrid will be answered with a smile by our helpful local drivers. With a big fleet of luxurious taxis and spacious cars, Airport Taxis provides transportation to and from the airport as well as any other location. You can choose the best car for the journey to your location. Book a taxi that most satisfies your needs, then settle back, unwind, and relish the trip! Airport Taxi services are available whether you are traveling on business or with your family.