Best Greek islands
Greece is a wonderful place to visit. Thanks to the weather, food, and kind locals, it's the ideal location for a pleasant visit. Because of the fact that Greece is so large, it can be challenging to decide exactly where to travel, especially when it comes to the best Greek islands to visit. The Greek islands offer an incredible variety of options and varieties. Which among the more than 200 Greek islands is the greatest? Uncertain about where to begin? We listen to the islands that you definitely need to be aware of.
To make your stay even more relaxed, you can use Airport Taxis services. You can book a taxi to hotel, apartment or other accommodation. It is also possible to use Airport Taxis for other destinations. Such as a taxi to restaurant, a taxi to shopping mall or a taxi to must-do's in the area.
Overall best Greece islands
Crete
Best Greek island for: Historical sites, outdoor activities, and year-round sunshine. The biggest island in Greece is a necessary inclusion for any list. When one thinks about Crete, images of Minoan temples, Venetian harbors, and archaeological sites fill the mental picture of the island. Even though the island is now known for bumper-to-bumper rental car companies and all-inclusive hotels, it still offers a treasure of fading elegance. Nevertheless, it fulfills your expectations because it possesses a bit of everything. Are there any secluded coves and beaches for new parents? Yup. There are water parks, aquariums, and shopping centers for older kids. Also ruins, gorges, trekking routes, and a crash course in Greek history. Airport Taxis drivers know the fastest routes to all the must-dos in the city and beyond. Book a taxi in Crete and let yourself be driven around.
You can locate the stylish Daios Cove hotel, only a 15-minute drive from the Agios Nikolaos harbor town. Every accommodation and villa has a view of the ocean because they are located in a remote and peaceful cove. The day in a Daios Cove villa always begins with a leisurely breakfast on your private terrace. After that, you may cool off with a swim in the water or have a siesta on the private beach. With Airport Taxis you're there in a whiff.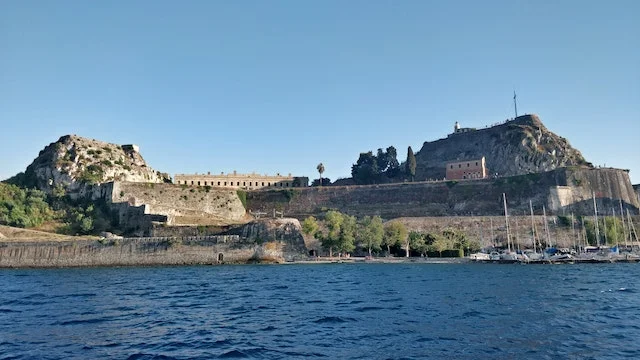 Corfu
Best Greek island for: Uniqueness and lush scenery
Corfu, the perennially popular island, has recently experienced a revival. For so long, the island carried the load of package vacations is now more focused on boutique hotels, tasting meals, and health trends. The region has Venetian-influenced heritage, family-friendly beaches, and fantastic towns. Going with Airport Taxis makes everything much more convenient. Play "king of the castle" with the kids in the Old Fortress, relax on the beaches of Paleokastritsa, Canal d'Amour, or Avlaki, travel to the adjacent island of Paxos to see the resident monk seals or learn the mysteries of the Vlacherna Monastery.
The finest in sleek Asian-inspired design combines a heavenly pool with pool villas and a beach club at the Angsana Corfu Resort & Spa. Additionally, it is open year-round, which is rare for the Greek Islands. Visit the beautiful Ikos Dassia, a favorite hangout of The Durrells actors and crew, for all-inclusive lodging. You get there fast and easy when you book a taxi in Corfu with Airport Taxis.
Naxos
Best Greek island for: Endless sandy beaches
Suppose the Cyclades islands are what people envision when thinking about a Greek vacation. In that case, Naxos is the party-free pin-up, with family-friendly hotels and PG-rated activities in plenty. Since there are more than 100 kilometers of beaches in this area, highlighting just a few of them due to their accessibility and presence of lifeguards. St. George Beach, Agios Prokopios, and Plaka are a few with a great appeal. Horseback riding is available nearby in Chora for something with more bounce, and windsurfing in very safe seas is fantastic at Laguna Beach. How do you get there? Book an airport taxi in Naxos with Airport Taxis!
Above Agios Prokopios beach, Kavos is a quiet neighborhood of boxy white homes surrounded by vibrant blooms of geraniums, bougainvillea and roses. On the adult-only portion of Plaka Beach, Naxian on the Beach is a short distance from the water. The ten rooms are bamboo-furnished. This contemporary Cycladic house in Naxos Town is available on Airbnb and features a sizable private outdoor area with a swing, barbeque and mini-pool. Want to go out? The drivers of Airport Taxis are more than willing to take you to the best places with one of our luxury taxis.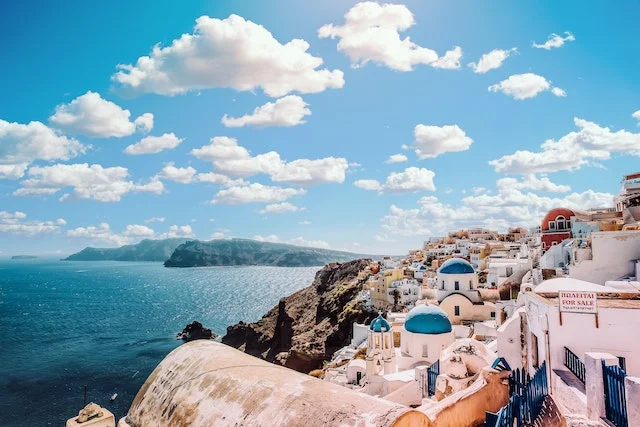 Best Greek islands for families
Greece is always a great choice for a family summer vacation, and for a good reason. From thriving, dynamic cities to some of the most breathtaking beaches in the world, this lovely nation has it all. The best Greek islands for families provide unique family adventures with idyllic beaches close at hand, along with ancient temples, underwater worlds, and an abundance of activities.
It can be a hassle to go out with the family on public transport. Also driving around an island that you hardly know, or not at all, can be quite a hit. Therefore choose Airport Taxis. Book a taxi in the best Greek islands and your family vacation will immediately become a lot more relaxed.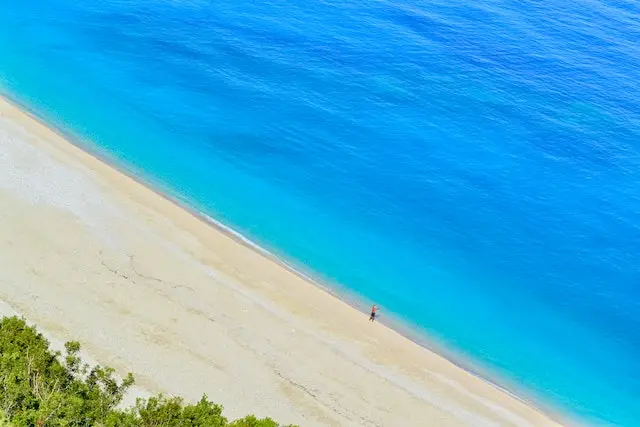 Cephalonia / Kefalonia
Best Greek island for: Laidback family holidays
The island of Captain Corelli's Mandolin is so idyllic, with picture-perfect fishing towns and heavenly beaches, that it nearly seems unreal. Kefalonia is not the typical Greek island you may imagine for families; it is wilder and more rugged, but there are also little coves with steps leading down to sapphire-blue waters. Also to the beach bars where you will have the place to yourself outside of the summer. Tourists often gravitate to the southern resorts around the capital, Argostoli, and Lassi. Still, the area surrounding Fiskardo is a secluded hook of land where picture-perfect towns give way to breathtakingly pristine bays, making it an insider's secret. In order to fully explore the island, you can best book a taxi driver.
Along the high and lush slopes of Livathos, the family-owned F Zeen is spread out in natural stone villas. You'll be lounging on terraces that have been bleached by the sun, each with a rustic pool and tables that look out onto the Ionian Sea. Emelisse is a family-friendly hotel with a fantastic Elemis spa that looks out over Fiskardo. To make sure you arrive safely, book a taxi in Kefalonia.
Zakynthos / Zante
Best Greek island for: Family vacations by the sea with young children or teenagers
An island that is genuinely lovely for a luxurious vacation with the whole family. Who could ask for more than beaches, delicious food, and lovely surroundings? Even though Zakynthos is one of the livelier islands, it still merits a spot on this list of Greece's top family vacation spots. It's a lovely island with rocky terrain midway between Crete and Corfu. You will enjoy seeing the historic town of Zakynthos with your family and sampling some local cuisine while on vacation there. Book a taxi in Zakynthos at Airport Taxis to get from A to B as easily as possible. Maybe you'd also like to go cave exploring at the Blue or Keri Caves, which are accessible by boat.
Porto Zante is equipped for children of all ages: a playground, mini-golf, and every kind of water activity imaginable. It comprises eight villas with five-star amenities and is perched over a spotless bay of freshly raked sand. Zante Maris Suites and the Olea All Suite Hotel just next door are firmly geared at adults and have an haute hippie ambiance. Anyone over the age of 12 is welcome.
Best greek island for couples
The fact that the best Greek islands are among the most romantic vacation spots in the world and among the most popular honeymoon locations each year is not coincidental. Greece has all you need for an unforgettable honeymoon, a special anniversary, or an amazing week in paradise with your significant other.
During a romantic time away, the last thing you want to think about is how to get around. Fortunately, Airport Taxis services are available on many of the best Greek islands for couples. A taxi to hotel, taxi to restaurant or taxi to beaches? We are here for you.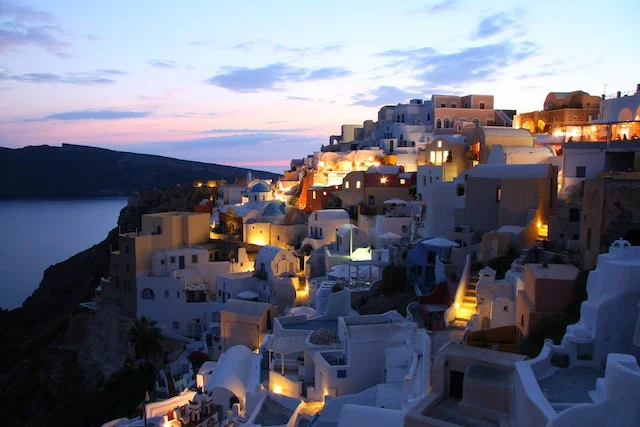 Santorini
Best Greek island for: Newlyweds and tourists.
One of the most well-known Greek islands for a honeymoon or romantic getaway with a partner is Santorini. It's easy to see why with its distinctive architecture of sun-bleached stone and soaring white cliffs dotted with small churches. Expect breathtaking sunsets, long, sandy beaches, and shimmering turquoise waters—the epitome of romance—all waiting to be discovered. Santorini is the ideal location for a luxurious honeymoon that's also romantic because of its vineyards and gastronomic culture. Couples should travel outside the summer break because Santorini is so well-liked and can get quite crowded then. To get to multiple places, you can book a taxi in Santorini and let the drivers tell you the best spots.
Mystique is a charming boutique hotel perched on the untamed volcanic cliff tops for couples looking to fully immerse themselves in Santorini's magnificence. The surroundings are magnificent, and the lodging offers luxury furnishings and breathtaking views, making it the ideal place to get away from the crowd for a genuinely romantic getaway. Book an airport taxi in Santorini to your accommodation so you don't have to worry about how to get there.
Mykonos
Best Greek island for: Couples who love nightlife
Mykonos should be at the top of your list of Greek islands to visit if you and your partner are seeking lively nightlife. Mykonos Town's cobblestone alleyways are crammed with bustling clubs and eateries, earning the island's reputation as a party island. Couples should visit this location because of various factors, not only the atmosphere after sunset. You may learn about the island's decadent culinary scene throughout the day, which is one of its best-kept secrets. Of course, you want to arrive in style for every occasion, so book a taxi in Mykonos with Airport Taxi.
Where to stay:
Myconian Ambassador, one of the greatest resorts on the Greek islands for couples, can be your ideal lodging. When you arrive, you'll see a stylish Miami-style design with bold, colorful décor and a plethora of contemporary facilities that bring the vibe of Mykonos straight into the hotel. An airport transfer can make your lives much easier.
Best islands in Greece for holidays
Thankfully, the best Greek islands are now among the safest places to visit, making them perfect for those wonderful vacations you've imagined yourself spending sipping a cool drink while lying on the beach. Not everyone has the same priorities when visiting the best Greek islands, and personal preferences are always subjective. What can give your holiday that extra bit of relaxation is to rely on the Airport Taxis services. Wherever you want to go during your stay, our drivers know the best route. They can also give you great tips. A taxi to restaurant or taxi to must sees.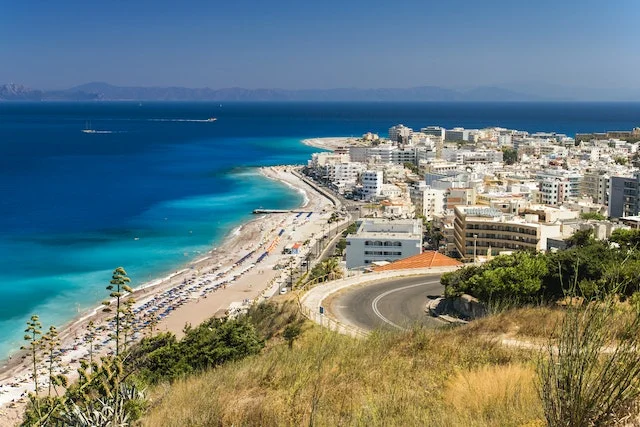 Rhodes
Best Greek island for: Family holidays
The best Greek island for families is, without a doubt, Rhodes. There are plenty of days away on the sand, tranquil beaches with safe swimming and easy flights from many locations. The Colossus of Rhodes, a statue of the sun god Helios, was one of the Seven Wonders of the Ancient World. In mythology, this was the island of Helios. Rhodes Town, one of Greece's most evocative island capitals, bears the imprints of the Roman, Ottoman, and Venetian eras. You can also have great meals (and drinks?) at the best restaurants. Had a couple of those fine drinks? Book a taxi on Rhodes back to your accommodation.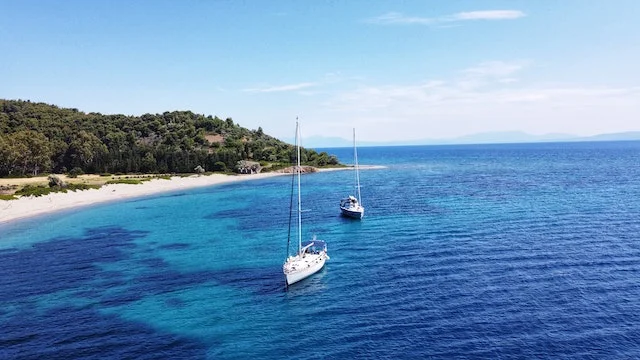 Skiathos
Best Greek island for: Beautiful beach holidays
Skiathos, a little island, packs a stylish coastal punch. This region, where bottle-green pines fall from the steep interior to reach the Aegean, is home to some of Greece's most picturesque beaches. Providing natural shade for carefree days by the water. Big Banana, Little Banana, Ampelakia, and the famed Koukounaries are four of the island's nicest beaches, while Elivi Skiathos is a luxurious retreat that makes a great spot to stay. Make things interesting by taking excursions into Skiathos Town, where upscale eateries and bars with harbor views provide the setting for exciting street celebrations almost every summer night. Of course, after a fun night out with the family, you want to return safely to your accommodation. Booking a taxi on Skiathos is therefore the best thing to do.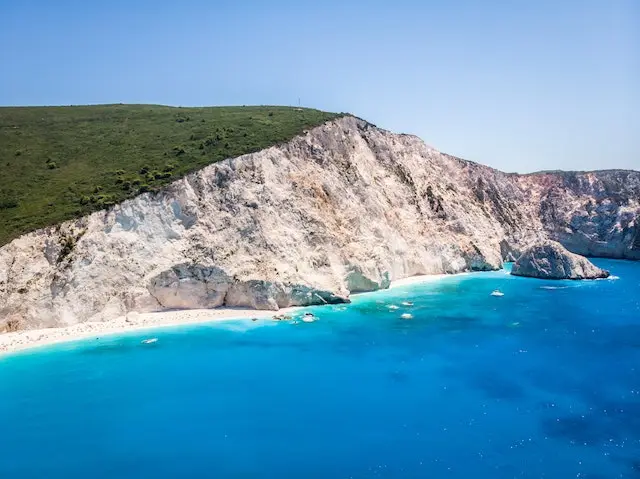 Lefkada
Best Greek island for: Ferry-free island-hopping holidays
You don't have to be a sailor to think of visiting Lefkada. This Ionian island is easy to get to from Preveza Airport because it can be reached from the mainland by a floating bridge. One of the possibilities is to book a taxi with Airport Taxis on Lefkada. There will be a great deal of unspoiled towns and mountains (with world-class windsurfing and sailing off gorgeous beaches). Explore everything from the convenient Papadria Villas, which have three modern units on a secure property. It has a pool, outdoor dining, and concierge staff assistance, and it is close to a beach and bustling Lefkada Town.
No matter which Greek island you choose: book a taxi with Airport Taxis
Whichever best Greek island you visit, it is always good to plan in advance how you and your family or company will safely return to your accommodation. There is probably some shopping during your stay, so a taxi to hotel is most convenient. To ensure that you can enjoy the alcoholic beverages in the best Greek island of your choice, booking a taxi is the best choice. At Airport Taxis we are happy to help you make your stay as easy going as possible. For either family and business trips you can count on Airport Taxis.